Some of the most incredible places to visit while traveling are sports venues. At sporting events, you are able to get a...
So, we have been to a few other Disney On Ice shows, but I must say, I think that this one is the best,...
Have you heard of FOX's hit show STAR? If you haven't, we are questioning what you are watching at night. Nina Gloster is a...
Dance is a universal language enjoyed by many no matter one's race or ethnicity. However, when it comes to the discussion of race equity,...
Patrisse Khan-Cullors is a household name for a few good reasons. We know her as an artist, organizer, freedom fighter, and last but most...
Television Critics Association Winter panel was full of exciting news, black excellence, and gut-wrenching truth. Starting off with the NAACP Award nomination...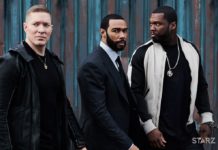 We have been rocking with and down for the St. Patrick's for five years! Can you believe it's been that long? We're family now....
"The best a man can get." For too long we've allowed taglines such as this one...
How often do we celebrate our melanin? Not as often as we should, and it's certainly not everyday. Our black is beautiful...