December 2019 most of us were celebrating the holiday season. In January things started taking a turn for the worse with COVID...
Dr. Ashley Demark grew up in St. Louis, Missouri, a city where about 25 percent of the population is African American and...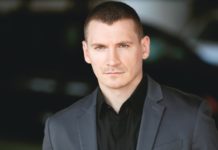 Kazy Tauginas is a star on the rise and on the right track to a successful career. At the young age of 23 he...
David Kallaway has an extensive list of acting accomplishments. He can be seen in movies, such as The Rainmaker with Francis Ford Coppola and Matt...
https://youtu.be/aKXvex7b1Ew Michael Ealy has been doing his thing for a while now, and is one of the...
Marvel fans, assemble for this live, action-packed, legendary battle to defend the universe from evil. Spider-Man, the Avengers and the Guardians of the Galaxy...
Patrisse Khan-Cullors is a household name for a few good reasons. We know her as an artist, organizer, freedom fighter, and last but most...
We live in a society where relationships take on so many more forms than the bonds our parents and grandparents shared. It seems like...
Be honest, there are people out there, who we know and love dearly, who will worry the only nerve you have left, and will...