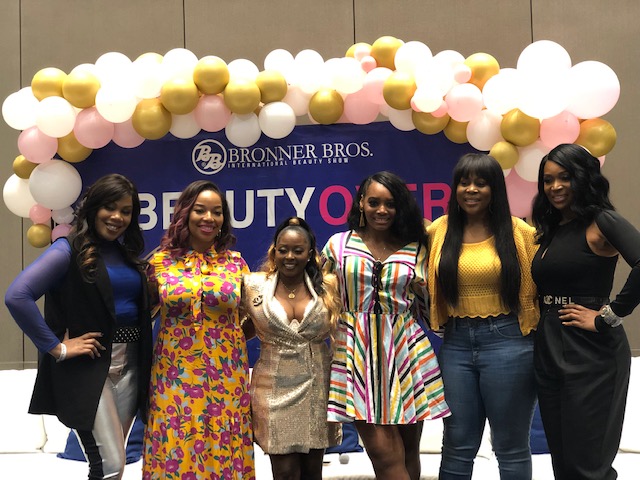 Bronner Bros' 2019 Mid-Summer Beauty Show attracts over 30,000 attendees and hosts a number of special events, including the A-List Beauty Over Brunch meet and greet. This 2nd annual event features the who's who among beauty influencers and reality tv personalities for an exclusive and intimate brunch. With two panels moderated by Grind Pretty CEO MiMi Johnson, we were able to hear nuggets from Erica Dias, Yandy Smith-Harris, Marlo Hampton, Sierra Gates, Jesseca "Judy" Dupart and more, as they talk about hair, beauty, and fashion, and answer all of our most burning questions.
The first panel covered everything from beauty to entrepreneurship, and here's what the experts had to say:
What was your motivation behind starting a business?
Panelist Sierra Gates: My daughter was my motivation. I had her at 16 and we were homeless. I had to do something.

Panelist Jesseca "Judy" Dupart: My father was an entrepreneur and inspired me to go into entrepreneurship.

Panelist Maya Smith: My community inspired me.
How did you get started?
Panelist Jesseca "Judy" Dupart: I got started as a hairstylist. I was doing everything on my own, even recording my own videos

Panelist Sierra Gates: I got started doing makeup.

Panelist Maya Smith: I started by focusing on who I wanted to serve and my consumer.
All of us on the panel are moms, what advice do you have for single moms trying to get started?
Panelist Sierra Gates: You just have to make a way. Get up early and go to bed late, whatever it takes.

Panelist Jesseca "Judy" Dupart: I try to incorporate my kids as much as possible in my business. I used to take them to the salon with me and now they know how to run my business.
What are some of the not so glamorous parts of business?
Panelist Jesseca "Judy" Dupart: I had a fire in my salon and I felt responsible to everyone that was depending on me for their business. I learned how to spend money more wisely when I had to replace things the second go round.
Moderator Mimi Johnson: Knowing that the vision may end different than what you have in mind. I had a dream to be a black Sephora and realized a lot of my revenue was coming from services. You also have to be willing to change your thinking
Panelist Maya Smith: Be more transparent with others on what leadership looks like.
The second panel covered breaking into new terrains from corporate America to new ventures.
What advice can you give someone looking to jump into full entrepreneurship?
Panelist Yandy Smith-Harris: Prepare. There will be trials and struggles. Be willing to make sacrifices. Downgrade if needed. Be willing to do what others won't. Be willing to be uncomfortable to make it a success.

Panelist Erica Dias: What you may not know is that most of our favorite entrepreneurs also have a corporate job. I am a faith it till you make it kind of woman.

Panelist Marlo Hampton: You really have to believe in yourself. Have affirmations. I even give them to my nephews. You need positive energy around you.

Panelist Tie Cooper: I paid a lot of money to get three degrees. I am going to use the investment I made in myself. So I am a Regional HR Director for Keurig/Dr. Pepper, but I'm also an entrepreneur. You have to write your goals down. Make it plain. Plan and be realistic with yourself. Take yourself off Instagram if needed. Prepare and plan for your dream.

Panelist Jessica De Vault Hale: The corporate job funds the dream. Save and fund the dream so you can come out the gate strong.

Moderator Mimi Johnson: It's okay if you're not an entrepreneur. It's not for everyone. Everything on social media is being a boss. You can be a boss in corporate America. Do what gives you purpose.
How did you fully develop your ideas and create your brand stories?
Panelist Marlo Hampton: Being a new business owner of a wig line, I can tell you I had to figure out what would make mine different. So I came up with seven wigs, seven days of the week. One day I looked in the mirror and said I feel like her and that gave me the unique name for my line.

Panelist Yandy Smith-Harris: I started Love & Hip Hop because I wanted to tell women's stories. I started my beauty line because I realized it was something missing. So first, is it something that is needed? I went into Sephora and CVS and researched beauty products. I always saw the disclaimer "not for children's use". I realized there was a need for a niche line that was safe for families to use, so I launch my all natural skin care line.
About the Bronner Brothers Show:
The Bronner Bros. International Beauty Show is a three-day professional beauty industry event and is the largest multicultural/multi-textural tradeshow in the United States. Held every February and August at the Georgia World Congress Center in Atlanta, Georgia. Our Mid-Summer Beauty show took place on August 17th -August 19th, 2019.
For our upcoming events, come and join over 30,000 beauty professionals and brush up on your professional education to grow your business. The beauty show features over 100 professional education classes, innovative workshops sessions, exciting evening entertainment, an inspirational worship service, creative competitions and much more!
Learn more at their website: https://bronnerbros.com/.