If you didn't have a seat in the house, you missed a phenomenal evening. It was a night of black excellence at its finest, to acknowledge individuals and organizations that have continuously made an extraordinary impact for the culture and community, at the inaugural Urban One Honors. The event took place at the beautiful Anthem in Washington, D.C. and the star-studded night was full of laughs with a King of Comedy veteran and host of the evening D.L. Hughley. The stellar event was presented by MGM National Harbor and Radio One's Washington, D.C. radio stations Majic 102.3 & 92.7, 93.9 WKYS, Praise 104.1, WOL 1450 & 95.9, Spirit 1340, and The Team 930.
Performers swooned the audience with music from the 90's R&B sensations K-Ci from Jodeci and Johnny Gill. The crowd sang along with K-Ci to the classic top charting hits including, "Forever My Lady". K-Ci shared the history of "Forever My Lady", stating that Al B Sure wrote the hit record about the late model, Kim Porter. We truly miss her, and it's her birthday today, December 15th.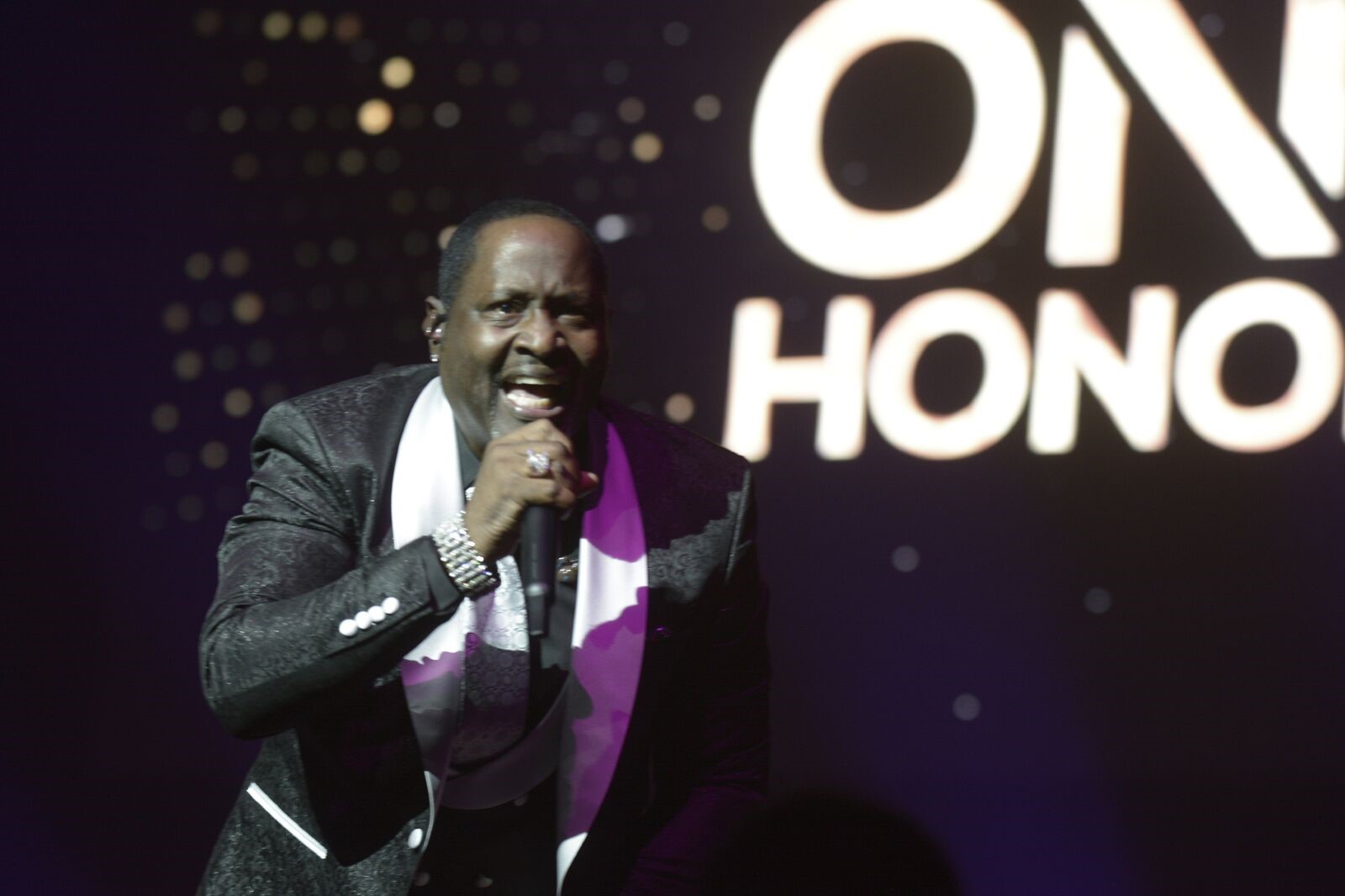 Meanwhile, women couldn't stay in their seats as R&B crooner Jonny Gill had the ladies going crazy singing "My, My, My", and other memory lane hits while passing out long-stemmed red roses.
Let's not forget about the beautiful ladies and their powerhouse vocals gracing the stage! Elle Varner kick started the evening with breakout hits, "Refill" and "I Don't Care", as well as debuting new music, "Loving U Blind". The soulful songbird, Avery Johnson had no mercy on the crowd during the Aretha Franklin tribute. She laid it all out for the world to remember the legend by singing "I Never Loved A Man The Way That I Love You", "Daydream", and "Jump To It".
Brandy received the Cathy Hughes Excellence Award which was eloquently presented by her brother Ray J, for her long-standing career commencing in her teenage years as a singer and actor. Ray J didn't waste any time sharing his sister's accolades by dubbing Brandy as the first black Cinderella, the first black singer to be the face for Cover Girl Cosmetics, and teenage heartthrob with her 90's hit sitcom "Moesha". We don't know about you all, but for us, this took us on a walk down memory lane. We may have just been "babies" and youngins' back then, but Brandy was our shero. We truly adored her and everything that she did. While Ray J presented this award, we could see the amount of love, adoration, and respect that he has for his big sis.
Other honorees and presenters included Dr. Michael Eric Dyson presented to Tracy Martin, father of Trayvon Martin for the Global Ambassador Award; April Ryan received the Media Personality of the Year Award by Baltimore Mayor Catherine Pugh; Dr. Nadia Lopez received the Education Maven Award by State's Attorney, Marilyn Mosby; June Ambrose accepted the Fashion Icon Award presented by Q Parker from 112; Shaun King proudly accepted the Social Change Agent Award by Symone Sanders; Roc Nation President Benny Pough proudly accepted the Record Executive of the Year Award by long time mentor, L.A. Reid; Congresswoman Eleanor Holmes Norton received the Public Servant Award by Roland Martin, Doc Walker accepted the Sports Legend Award by Fred Smoot; DJ Khaled received the Hip Hop Impact Award via video message, since he regretfully couldn't be there; Rotimi accepted the Generation Next Award by Traci Braxton; and Gia Peppers presented the Viral Sensation Award to Jade Novah.
Tom Joyner received the Lifetime Achievement Award by Cathy Hughes and Chief Diversity Officer at the MGM Phyllis James, with a surprise step show performance by his fraternity Omega Psi Phi. In closing, in such an outstanding night of excellence, Jermaine Dupri accepted the Living Legend Award by his longtime good friends Da Brat and Bryan Michael Cox.
Last but certainly not least, where would we be without the legendary Cathy Hughes? She has truly paved the way and set the bar high for giving us nothing but the best within the music and entertainment industry. Here's what Hughes had to say about the evening:
"I am immensely proud of our inaugural Urban One Honors awards show. We exhibited and experienced black on black love and appreciation, something that is extremely critical during these times. We are already planning for next year and look forward to creating a rich tradition of celebrating the best and brightest of who we are."
It's safe to say the honorees, performers, and presenters of the evening exuded class, cutting edge technology, chat topping entertainment, and most importantly action in our communities for our future leaders and legends of tomorrow. Stay tuned and be sure to set your DVR's to catch the inaugural Urban One Honors premiering on TV One in 2019.